A new event is coming soon, scheduled for January 2020 to kick off for an EPIC trading year ..
We are working on a format that will be fresh and new for 2020, combining trading,  positive energy, technicals, and coaching mentorship for those who have expressed an interest.  We will be sending information out via e-mail before year-end if you reach out to us under "Contact" on Linda's website  https://lindaraschke.net/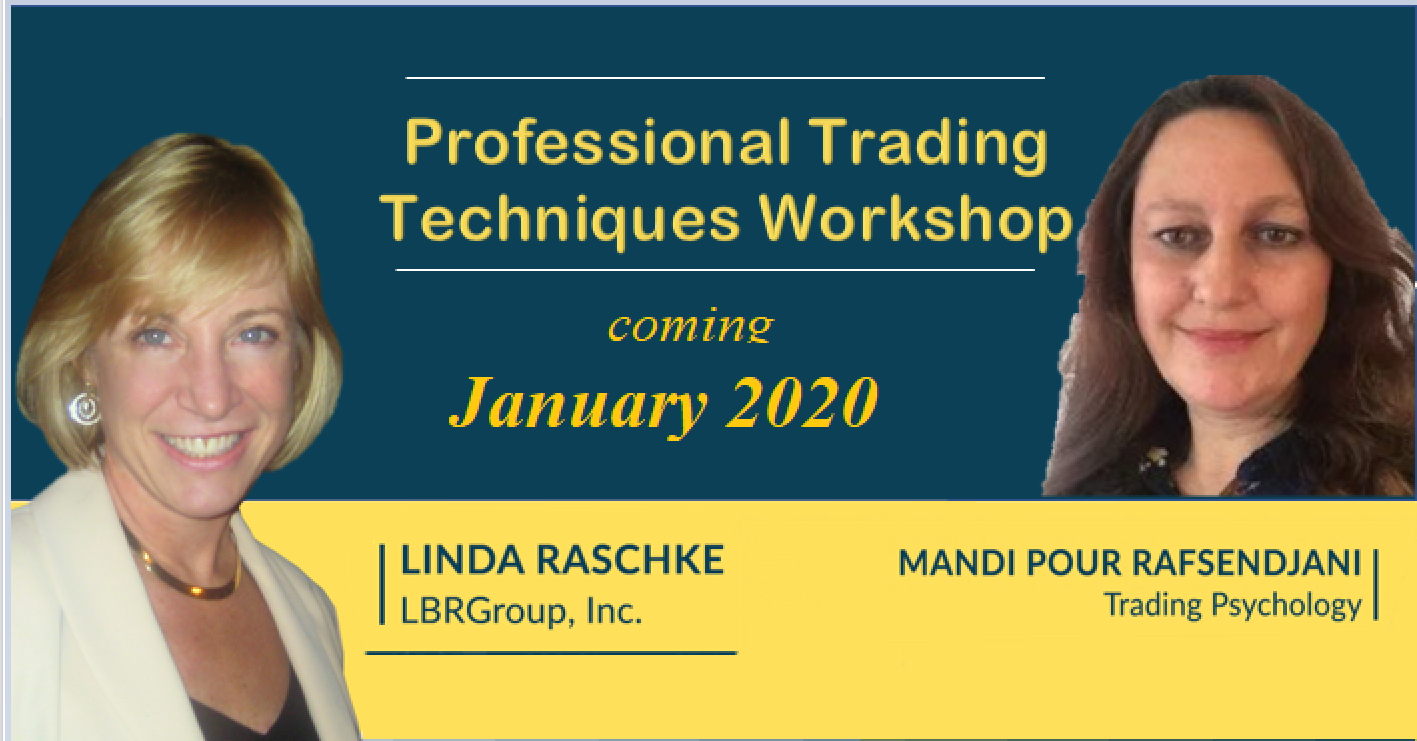 Linda Bradford Raschke presents:
Professional Trading Techniques 
A TWO-WEEK CONCENTRATED TRADING PROGRAM
Mid-Day Daily Coaching/Psychology Sessions provided by Mandi Pour Rafsendjani
 In-depth Volume Education and Market Profile Analysis provided by Petar Jacimovic.
Additional Support provided by Damon Pavlatos and Kyle Potter.
Sunday, July 7 to Friday, July 19   
(See full schedule at the bottom)
Join us for a plunge into the deep end:  an intensive two weeks of live trading, education and coaching in the futures markets. After all, the REAL learning takes place live, tick by tick, trade by trade. Strategies and trading plan will be outlined the night before. Then see how the trading action progresses real time and the different opportunities that unfold.
Markets covered:  Program 1 – SP day-trading;   Program 2 – 1-3 day swing trades (may include US, GC, CL, HG, EC, JY, CD, AD, BP, S, W, C, NG, HG.)
"Live with Linda" and Video starts weekdays 8 AM EST. Evening sessions during the week start at 8:30 PM EST.  Evening sessions only will be  recorded and made available via private login for those in a different time zone.
 * Mandi Pour Rafsendjani  – international trading psychology and peak performance specialist.  Mandi has been a trader, trainer and trading psychology coach for the past 19 years.  She has worked with private traders, London prop firms and hedge funds around the world.  She has a reputation for achieving immediate changes and long term results with numerous accreditations and advance degrees in psychology and coaching.
 * Petar Jacimovic  is a top trader and analysts in the Forex markets for well over a decade, as well as working for London Hedge Funds. Petar wll review the volume structure, multiframe analysis and profile for a different market each day. His unique analytical talents will open your eyes to a new way of looking at things, regardless if you are not familiar with market profile.
This is a one- time program only, made possible by Mandi's travel from Australia to join Linda in her Chicago office! Petar joins us from Eastern Europe and Kyle is with us from Florida.
To join the training, click here: www.lindaraschke.net/workshop