This was my newsletter from May 18, 2012:

Hello Traders,
Once again it's been working like clockwork and I hope you all were well prepared with David Hunt's mass pressure chart  in my last newsletter and also Larry Pesavento's analysis (https://www.tradingpsychology.com.au/category/tradingtips/). Below I will explain how I analysed the market and knew it was time to short like a worldchampion.
But first I'd like to introduce you to
Nick McDonald from 'Trade With Precision':
Creating amazing results for his clients out there in the trading world it comes to no surprise that Nick is a globally sought after speaker and trainer and is currently running a trading webinar series for CMC markets where you can watch trades being placed live! You'll see how they execute their trading principles, strategies and risk management skills – with the focus specifically on indices, currencies and precious metals.
I can confidently highly recommend even his free live webinars, there are lots of useful tricks and tips on how to analyse the markets you can pick up here: http://www.tradewithprecision.com/freewebinars
But the main reason why I know Nick stands for excellence is that we share the same trading coach and just like I experienced it Nick also has discovered his own personal success principles under Steve's guidance. And like me Nick loves to share. Even though this webinar is exclusive for TWP clients he has kindly extended this invitation to you guys as well (and yes, please forward this invite to your trading buddies too).
"Dear Traders,
I am very excited to announce this brand new complimentary webinar offered exclusively for TWP clients from my own personal trading coach, Steve Ward.
Steve has helped me through many highs and lows in my trading career and his expertise in this area is very impressive. You don't need to take my word on that, instead come along to this free webinar with Steve and see for yourself.
Register Now for the webinar on 23rd May.
Attend and you will learn to master your trader mindset with content including:
The 2 key components of profitable trading Why your brain is like a fish out of water in the markets Developing a mastery mindset; the foundation to successful trading The key performance psychology principle for disciplined trading Dealing with the highs and lows and uncertainty of trading
Learn more about the complimentary webinar content and register here. / 
[Please click HERE for the webinar recording]
Regards,
Nick McDonald
Head Trader & Founder
www.tradewithprecision.com"
---
Why Charts Never Lie
 For us technical analysts this down move in the market comes to no surprise. Just like in 2008 once again the charts were almost yelling it out to the world! The daily CBA chart displays a textbook double top action, the daily NAB chart is setting up for a nice Head and Shoulders formation, RIO dropped out of a beautiful wedge formation in a triple top action. If you can't see it clearly email me and I will send you the charts with explanations.
The Dow Jones showed a much clearer topping formation than the XJO so that was my cue to short. You can see on the weekly chart we had a textbook entry triggered. Those of you who have attended my Live Market Analysis courses in the past will recognise this: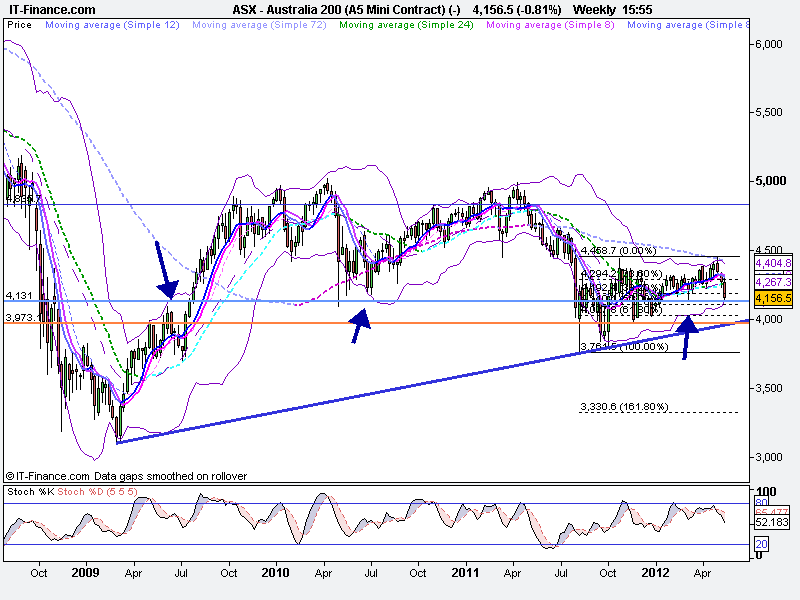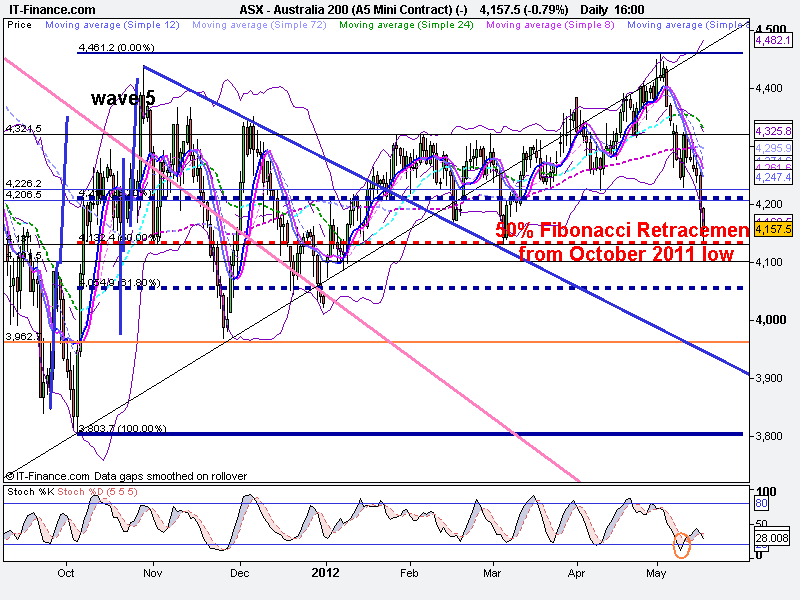 1. bigger picture chart formation: double top
2. smaller picture candle formation: bearish engulfing on second top
3. Stochastics: strong bearish divergence
4. breach of strong support area (orange line)
and then of course mass pressure chart dates were spot on once again…
The XJO though didn't show as clear of a picture that's why I like to use correlated markets as a secondary indicator as well.
I  hope you also enjoy Nick's work and get lots of light bulb moments during Steve's webinar too.
Here is the link for you to watch the recording:
Let me know how you go, okay?
With a toast to your trading profits
Mandi Pour Rafsendjani