This morning I attended the IG Markets seminar where Chris Weston presented the IG market update. To my surprise it was quite interesting and insightful.
He showed a chart showing how Gold and the Euro are correlated. Their view is that as soon as the Euro breaches the 1.31 mark Gold will move to a potential target of $2500. Consequently gold mining stocks should soon be back in fashion according. It never occurred to me that gold and euro could be correlated so I found this piece of information interesting. Check out the chart: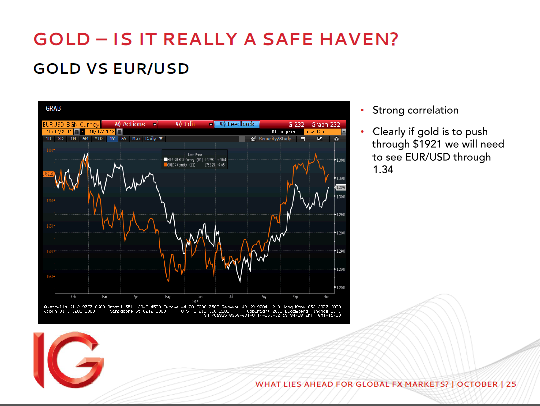 Their explanation for the AUD to show such strengths despite the concerns about China is that our Bond market is very strong with Australia's AAA rated banks leading in the world.
And the other interesting insight I never thought of is that Yen and US Treasury yields are correlated.
Well there you go always inspiring to see that there is still some great minds out there…