We are a trading psychology and peak performance training company which offers specialist coaching and training services to traders across all asset classes.
Mandi is a performance coach specializing in the essential parts of decision making. By understanding how a person makes their decisions she empowers them to make better choices. Her unique approach has had remarkable success with institutional clients, hedge funds, prop traders and private individuals.
Mandi's decades of experience as both a trader AND a coach have helped people transform their trading around the globe.
We offer:
One-on-one coaching as a combination of trading technique and trading psychology

Group coaching sessions

Webinars

Seminars and

Workshops
If you want to learn how to create the mindset that allows you to do more of what you know or would like to find out more about our coaching and training programs we would love to hear from you. Please use the contact form below to contact us (sorry for that but it saves us from all the spam of robots collecting email addresses from websites..)
All Challenges Can Be Overcome!
"My Job as a Trading Mindset Coach
is not to tell a trader what to do. They Already Know That. As Steve Ward said: Every Trader Knows What To Do, It's Doing What You Know That Is The Hard Part" 
My job is to help traders overcome their internal conflicts and self-sabotaging behaviors, so that they can press that little mouse button the exact moment their strategy tells them to.. every single time" 
Step 1:

If you are new to my work the best place to learn more about Trading Psychology, is my You Tube Channel, where I uploaded lots of free webinars, little snippets of insight from my coaching work with traders, interviews with Futuresradio Show with Anthony Crudele, Better Systems Trader with Andrew Swannscott, Desire to Trade Podcast with Etienne Crete, and many more, where I explain concepts of how to overcome trading challenges.
---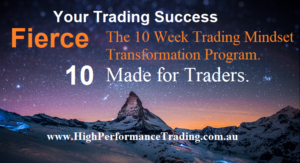 If you are already familiar with my work and you are looking to take the next step, check out the Fierce10 Trading Mindset Transformation Challenge. It is a 10 module online course, probably the most in depth Personal Development Course for Traders out there.
www.highperformancetrading.com.au/fierce10/
---
For any further questions about our coaching and speaking services please fill in the form below.
1